Dr. Steve Salvatore and Reuters
WASHINGTON (CNN) -- Citing the rising popularity of alternative medicine, the American Medical Association on Tuesday released a series of studies testing the effectiveness of some common treatments.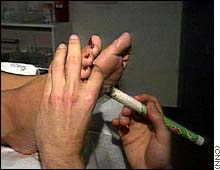 Journal researchers reported that in 1997, four out of 10 Americans used alternative medicines, spending an estimated $21.2 billion. The survey included practices such as spiritual healing, massage, chiropractic care, homeopathy and acupuncture.

U.S. alternative medicine visits increased from an estimated 427 million in 1990 to 629 million in 1997, the survey found. By comparison, visits to all U.S. primary care physicians in 1997 totaled 386 million.

"The market for alternative medicine is vast and growing," said study author Dr. David Eisenberg of Beth-Israel Deaconess in Boston. "This trend must be guided by scientific inquiry, clinical judgment, regulatory authority and shared decision-making."

Journal not alone in questioning practice

The Journal of the American Medical Association is the second major medical journal to tackle the topic of alternative medicine in recent months. In September, the New England Journal of Medicine cautioned patients against using alternative treatments that were not adequately researched and tested.

JAMA studies found that while some traditional therapies are helpful, others show no measurable health benefits.

Doctors in Italy and China said moxibustion, the application of heat from burning herbs to acupuncture points, can help a fetus in breech position to turn head-down when the treatment is administered to a pregnant woman.

A breech position occurs when a fetus is in a position other than headfirst, sometimes causing the buttocks, legs or feet, instead of the head, to emerge first in delivery. It can be dangerous for both mother and child.

The study's authors said, "If the results of this trial are confirmed, moxibustion should be extensively used on account of its noninvasiveness, low cost and ease of execution."

Another treatment, using Chinese herbs to treat irritable bowel syndrome, can reduce pain and irregularity, said researchers from the University of Western Sydney in Australia.

Some treatments fall short

The Obesity Research Center at St. Luke's-Roosevelt Hospital in New York looked at Garcinia cambogia, an herb often used for weight loss.

"The herbal product Garcinia cambogia failed to produce significantly more weight loss than a placebo tablet," said the study's author, Dr. Steve Heymesfield.

The reports said at least 14 products containing hydroxycitric acid, the active ingredient in Garcinia cambogia, are currently available to consumers over the counter.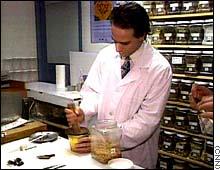 Researchers at the Odense University in Denmark said spinal manipulation does not improve tension headaches that affect more than one-third of the population and account for more than two-thirds of all headaches.
Alternative medicine says it supports research
Practitioners of alternative therapies say they welcome the research.
"In the future, we should try and find a combination that would work," said Nadav Shraibom of the Pacific Institute of Oriental Medicine. "Find a place that the Western medicine is at and try to make things (work) together."
Before the two fields can work together, researchers say, there's much more to learn, and communication is key.
They say very few people discuss their use of alternative therapies with their doctors.
"Fewer than 40 percent of the alternative therapies are discussed with one's physician," Eisenberg said. "In my personal view, the current status quo which could easily be described as 'Don't ask and don't tell,' needs to be abandoned -- that is not in anyone's best interest."